During your stay here in Canada, we want you to thrive by helping to meet any practical needs that you may have.
Career Mentorship Program
You have expressed that finding a job here in Canada is one of the biggest needs international students have right now!  We created this program to hopefully help you thrive in the Canadian job hunt and workplace.
This program pairs you with a working professional from your industry to run through three sessions, 1 to 1.5 hours each, of content about the Canadian workplace and your industry. Ask your questions directly to someone who has experience working in your field!
If you have any questions, please use the contact us button at the top of the page!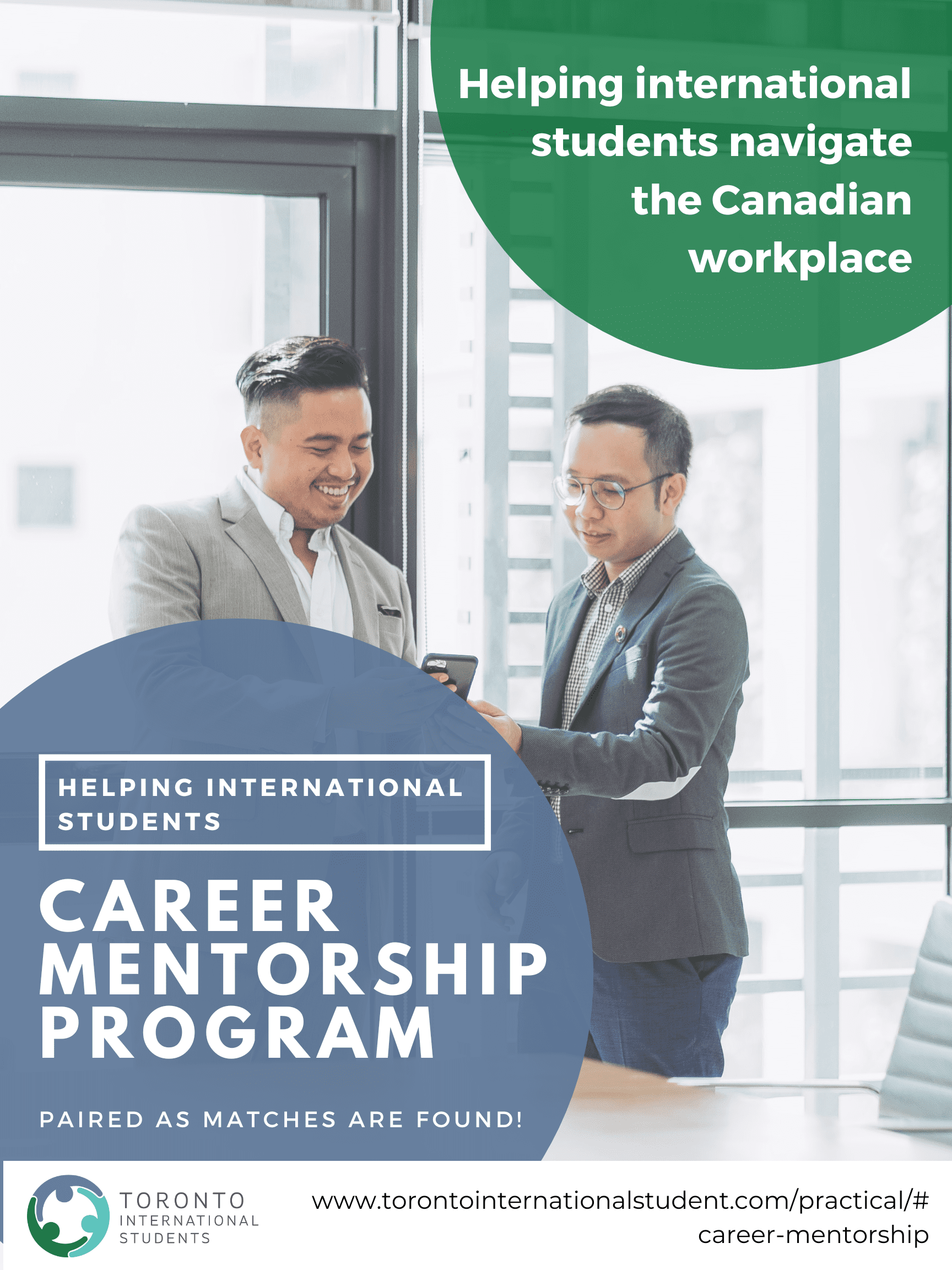 Improve your English through online or in-person conversations with Canadians and other internationals! Register below and we will be in touch with you shortly!
Welcome Pack Registration Form
If you are new to Canada or returning to Canada, we would love to have a volunteer drop off a Welcome Pack for you! You can register with the button below.
If you are in immediate danger, please call
If you are experiencing a mental health crisis right now, there are several helplines here to assist you listed below.
Text HOME to 686868 in Canada to text with a trained Crisis Responder. (Free and available 24/7)
Call 416-929-5200 for adults in Toronto in need of crisis support (free and available 24/7)
NOT for emergencies. Looking for help online visit: issuesiface.com/talk
Assaulted Women's Helpline
416-863-0511 or Toll Free 1-866-863-0511

Need support for mental health? Contact CMHA Toronto. They offer support for youth from 16 years old and adults.
York Support Services Network

1-855-310-COPE (2673) or TTY 1-866-323-7785
For services in the York and North York Region.

Scarborough Hospital Mobile Crisis Program

Are you experiencing a mental health crisis and live in the Scarborough and East York area? Call 416-495-2891

Do you need specific help? Please reach out to us through the Contact Us button at the top of the page!